Automatic Filling/Packaging Machines
Other Technologies
Flash Player is required to view this site.


This site is CSS compliant.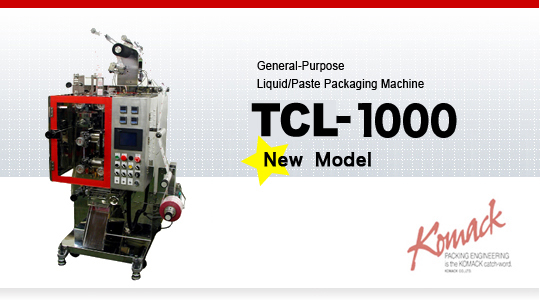 TCL-1000
AUTOMATIC HIGH-SPEED LIQUID & PASTE PACKAGING MACHINE
TCL-1000 is automatic high-speed packaging machine for liquid and paste. This machine is equipped with product condition operating mechanism by the difference of product specification like photocell control device for print registration or endless operation, changing product pitch, adjusting notch depth, fine adjusting cutting position and angle. This machine body is designed extremely compact and implemented easy maintenance too. This new model machine has mechanical advantage and sequence control.
Standard Specifications
Filling material
liquid and paste
Pouch pattern
3-side seal, 4-side seal
Packaging capacity
20-300 pouches/min
* Actual packaging speed depends on the product pitch, film quality and filling materials.
Filling volume
1-100cc
* Weighing range of filling volume depends on the filling material and feeder.
Pitch variable range
40-200mm
* Variable range is limited by horizontal seal wings.
* It may be different by number of horizontal seal width.
Product width variable range
25-100mm
Number of heating roll stage
3
Film
Width
50-200mm
Diameter
φ400mm (Max.)
Power source
3-phase 380V, 5.2KW
Machine dimension
1,130mm (W) × 1,120mm (L) × 2,060mm (H)
Machine weight
Approx. 630kg
(Note)
1. The packaging capacity, filling volume and the package size may vary by the selected options. Please contact us for details.
2. The range of the length of the bag may vary by the width of the side seal.
3. The actual filling speed may vary by the film material and the property of the filling material.
4. The range of the filling volume is determined by the "viscosity of the filling material" and the "feeding pump". Please feel free to consult with us.
5. The total power may vary by the specifications of the pump and other optional equipments.